DuChick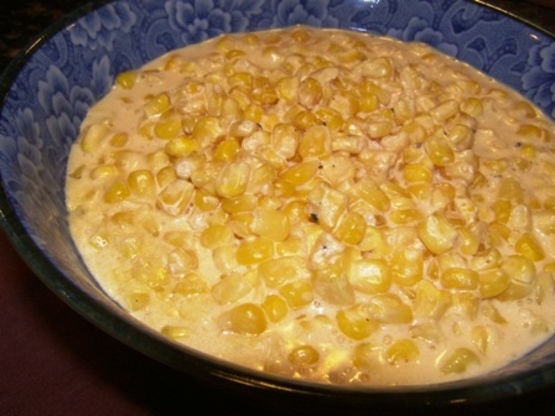 A sweet tasty temptation to anyones tongue. Delicious. This recipe has been reduced in fat and calories from the original.

I was just at the Rudy's in San Antonio TX, ate there 3 times to be exact. I would go with the recipe on blue bonnett & brownies, I made it as soon as I got back to PA. Here are the ingredients: <br/><br/>4 lbs. frozen sweet corn<br/>2 8 oz blocks cream cheese, diced into 1 inch squares<br/>1 stick (4 oz) of salted butter<br/>3/4 cup heavy whipping cream<br/>4 tablespoons of sugar<br/>1 teaspoon black pepper<br/>1/2 teaspoon salt<br/><br/>I did half of what the recipe called for threw it in a crock pot talk about delicious!!!
Spread corn over bottom of a crockpot or slowcooker.
Top with cream cheese, cubed into pieces.
Mix remaining ingredients together and pour over corn.
Cover and cook on high heat for 2-3 hours till creamy. Stir occasionally as it cooks.