Rudolph's Reward Punch (Non-Alcoholic)

Found @ Cooks.com when I went searching for recipes to use a nearly full 2 lt bottle of Club Soda guests left for us & another that is certainly a timely finding w/the holidays approaching (Time does not include chilling time under refrigeration). *Enjoy* !
1⁄4 cup sugar
3 1⁄4 cups water
6 cups cranberry juice
1 1⁄2 cups orange juice
1 lemon, juice of
6 cups club soda (or may use ginger ale)
Directions
In a sml saucepan, dissolve sugar with 1/4 cup of the water & remove from heat.
Transfer mixture to a lrg container you can refrigerate, add remaining water + juices & refrigerate till well-chilled.
To Serve: Stir mixture well & transfer to punch bowl. Add Club Soda just b4 serving & garnish w/clove-studded orange or lemon slices as desired.
Most Helpful
This was a nice treat! I love the use of the sugar syrup rather than plain sugar (that never dissolves). I used bottled lemon juice and Ginger Ale. Made for Week 12 Football Pool win 2010.
This was just right and hit the spot -- nice and citrussy! Made for Football Tag Week #15.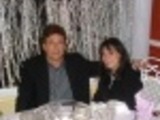 Very good. The kids just loved it. I didn't have club soda,but use a lemon lime soda. Thanks for posting.