Ruby's Surprise by Kathy Stovall
GaylaJ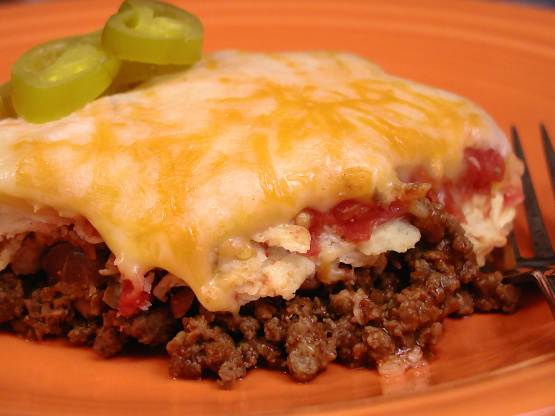 This came from a cookbook entitled Texas Longhorn Cookbook. It is easy, makes alot, freezes well, travels well..all of the above. It is not overly spicy.....

This was good and easy to make. I followed the recipe as written other then I used diced tomatoes instead of rotel. I also used a bit more cheese. I used a cup of the each of the cheeses as we like a lot of cheese. I made this for freezer tag. I made the casserole as directed but after step 4, I froze it. The day I was making, I pulled from the freezer and let thaw in the fridge. I then baked as directed.
Brown two pounds ground beef with chopped onion.
Add one packet taco seasoning, and lightly dust with chili powder.
Drain.
In a deep pyrex dish (I use a 13x9 pan) layer from the bottom in order: ground beef mixture, the can of ranch style beans, the tortillas, the can of rotel, the mozzarella cheese, the cheddar cheese, and the mushroom soup.
Bake at 350 degrees for 30 mins.