Ruby Tuesday's Potato Cheese Soup by Todd Wilbur
karenury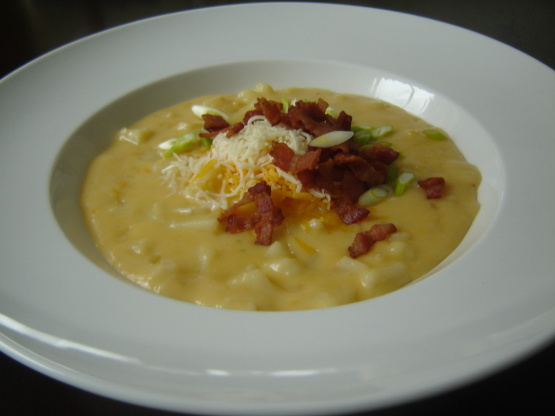 I couldn't resist sharing another Top Secret Restaurant Recipe with you! By Todd Wilbur, of course.From www.TopSecretRecipes.com. Although I've been to Ruby Tuesday, I've never had their potato soup until now. Oh this is good! On a cool Autumn evening, whip up this soup and most likely you'll find yourself making it again and again.
Peel potatoes and chop into bite-size pieces.
Make sure vegetables are minced into very small pieces- carrot should be grated, not shredded.
In a large saucepan, combine vegetables with chicken stock, salt, and vinegar over medium heat.
Bring to a boil, then turn down heat, cover, and simmer for 20 minutes.
In a medium bowl, whisk together flour and milk.
Remove saucepan with vegetables from heat and add flour and milk mixture.
Return pan back to heat and simmer, uncovered, for 5 to 8 minutes or until soup has thickened.
Add 1 cup of shredded Cheddar cheese to soup and simmer until melted.
By now the potatoes should be tender and falling apart.
If not, continue cooking until soup is as thick as you like it.
To serve, divide soup into 2 bowls.
Divide remaining 1 tablespoons of Monterrey Jack and Cheddar cheeses and sprinkle on the soup.
Crumble bacon and sprinkle evenly over the cheese.
Top off each bowl of soup with chopped green onion.