abu noor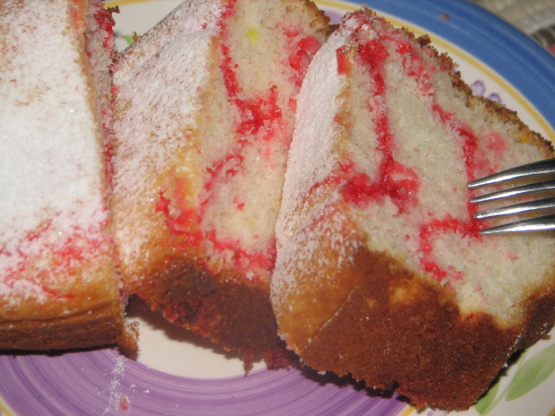 This is the cake I always made for my youngest daughter's birthday when she was growing up. I used to frost it with white fluffy frosting, sprinkle it with shredded coconut and decorate it with a big red ribbon, like a Fluffy White Christmas Wreath, as she had a Christmas birthday. I lost my copy of the recipe and have been looking for it for years and was delighted to finally find it. I am posting it here so I never lose it again! It is a delicious cake with a lovely raspberry filling.

Top Review by Judi90
This is such a great idea! Few changes - I made my own cake instead of using a box mix and I made it with less sugar than usual. Didnt add sour cream, just used butter milk (all I had at home) - We sprinkled some of the gelatin powder inbetween the layers and used the rest as a glaze! Just mixed it with a little water and icing sugar. - Added 1/2 cup choc chips to the batter to. Chocolate and berries....yummy! It was such a big hit. The rasberry taste was great, specially from the glaze and the cake had just the right sweetness in it because I didnt add much to the cake. Thanks for posting this one!
Combine cake mix, sour cream, water and eggs in large bowl.
Blend, then beat at medium speed 2 minutes until creamy.
Spoon 1/3 of batter into well-greased and floured 10-inch fluted tube pan.
Sprinkle with 1/2 the gelatin.
Repeat layers.
Spread remaining batter over gelatin to cover.
Bake at 350 degrees F for 45 to 50 minutes, until cake springs back when lightly pressed.
Cool in pan 5 minutes.
Remove from pan; cool on rack.
Sprinkle with confectioners' sugar, if desired.