Rita1652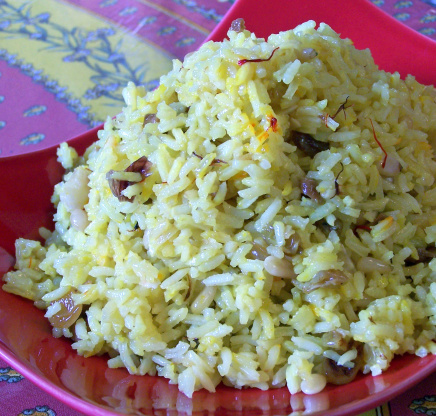 A Morrocan-inspired rice dish from the The Classic Mediterranean cookbook, with a few minor changes. This would probably taste good, too with basmati substituted for the regular white rice. Update: per the excellent suggestion of our dear Rita L, I subbed water for the broth in the original recipe. Thanks, Reets! cg

Delicious. I used white Basmati rice and agree water is good in this one. I used sea salt to taste and omitted the hazelnuts as I didn't have any on hand and was serving it with a dish that contained blanched toasted sliced almonds anyway. Sadly I had to use the bright orange dried apricots but don't recommend them (ie. use unsulphured). I used brown raisins but both kinds would work. I would make this again and would like to try it with the hazelnuts and yellow raisins next time. Made for NA*ME Tag!
Rinse the rice until the water runs clear. Drain, then spread the rice on a baking sheet and allow to dry-at least 30 minutes.
Melt 3 tablespoons of the butter in a pot over medium heat. Stir in the rice and saffron.
Pour 4 cups water into the pot along with the salt. Bring to a rapid boil; boiling for 2 minutes. Turn heat down to a simmer and cover pan.
Cook the rice for 20 minutes or until the grains are tender and no liquid remains.
Take the pot off the heat and cover the lid with a clean cotton dish towel. Allow to stand 10 minutes.
In a sautè pan melt the remaining 1 tablespoon of butter over medium heat. Add the pine nuts and hazelnuts and cook for about 2 minutes or until lightly browned. Add the dried fruit and cook 1 minute longer, until warmed through.
Stir the nut/fruit mixture into the rice and transfer to a platter. Serve hot.