Roz Bel Laban (Rice Pudding)
loof751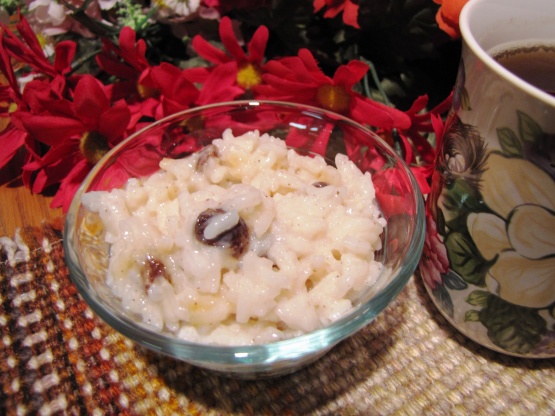 Traditional (NAME) Rice Pudding - I like to put a nice raisin medly in mine.

Wonderful!! I made just as directed using both cinnamon and nutmeg. I added the raisins shortly after adding the milk so that they would plump up. This smelled so good while cooking and came out sweet, creamy, spicy and delicious - thanks for sharing the recipe!
Rinse rice and place in a saucepan with water.
Cover and simmer over medium fire for 15-20 minutes.
Add milk, stirring constantly.
When it begins to thick, add sugar and orange blossom water.
Continue stirring constantly until rice is soft or well done.
Remove from fire and pour into platter spreading it thinly or in individual bowls.
Cool and serveor cool and serve.