Round Steak Cubes With Sauce
Derf2440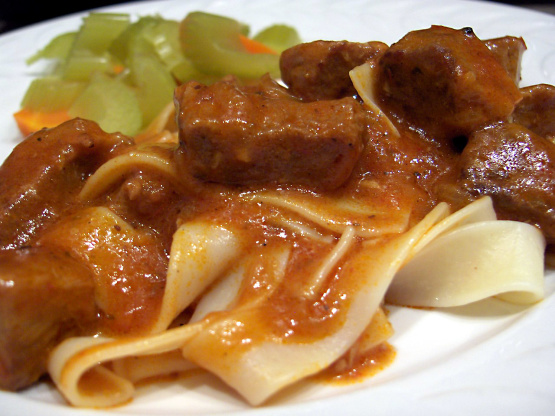 Round steak is not known for its tenderness. This recipe can be used over noodles, rice, cous cous and great over fried potato rounds. Slow cooking in the oven but you can use slow cooker also, just add two hours.Any tough cuts of meat can be used including pork.

If you like Indian food, definitely try this recipe! It was very good, although way too spicy for our son and a bit too spicy for me. Perhaps I should have cut back on the black pepper! I just threw everything in the crockpot for 8 hours and the meat was SO tender. I probably won't make this again just bkz we're not huge fans of Indian food flavors, but recommend giving it a try if you enjoy that taste! Glad I tried it. :)
In covered dutch oven add oil oil.
Preheat oven to 325°F.
Cut off fat from round steaks, discard.
Cut in two inch long strips, then stack and cut in chunks.
Put in dutch oven. Brown on top of burner, medium heat, Turning a few times to coat and cook.
Note: Split the sugar, between wet and dry ingredients.
In mixing bowl add flour, sugar, salt, pepper, gram marsala, dry mustard, all spice and celery seed.Mix.
In another mixing bowl, add liquid sugar substitute, tomato sauce, vinegar, garlic, and water. Stir to blend.
Add dry ingredients to wet ingredients, stirring.
Pour over browned meat.
Cover and cook in the oven about 2 hours May be necessary to add 1/4 cup water every hour.
Note: If you want to add hot sauce ie Tabasco or other brand, add right before serving and stir.