Rouladen (Beef Roll-Ups) Step-By-Step
Dannygirl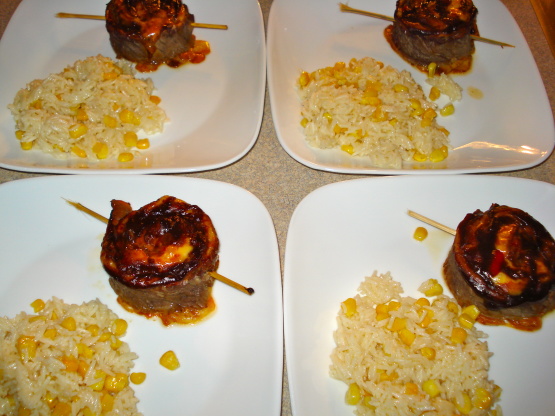 These colourful roll-ups are not only impressive to look at, they are delicious.
See step by step photos.
Preheat oven to 425F.
Prepare baking sheet with parchment paper.
Cover counter with a sheet of parchment paper and lay first slice of fast fry steak with the length-wise horizontally across parchment sheet.
Lay next slice slightly overlapping over first, followed by the third slice.
Cover the steak slices with another piece of parchment paper and pound the steak where the seams meet.
Layer the prosciutto length-wise vertically over the steak slices.
Layer the mortadella slices over the prosciutto.
Process onions in the food processor and layer over the cheese.
Process peppers in the food processor and layer over onions.
Sprinkle garlic powder, salt and pepper over the onions and peppers.
Using the parchment paper for leverage, start rolling from the edge closest to you, jellyroll-style.
Using either butcher twine or bamboo sticks broken in half, secure the roll by either tying the string or inserting sticks 1 1/2 inches apart.
Once the entire roll has been secured, slice between the ties or sticks.
Places rolls on baking sheet and spread barbeque sauce on top.
Bake 40-50 minutes (to desired doneness).
Serve with side of choice.