Rotwein-Nudeln (Red Wine Pasta With Spring Onions)
KateL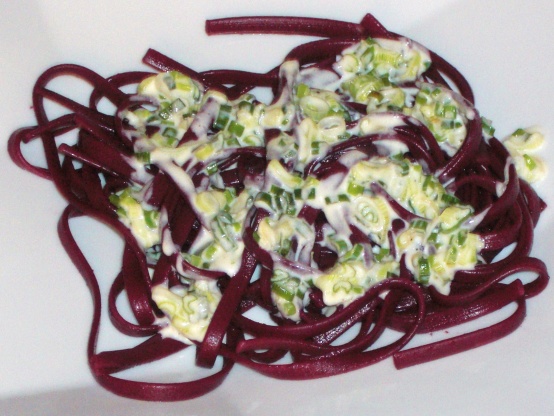 Rotwein-Nudeln Mit Fruehlingszwiebeln, from a Betty Bossi cookbook (Switzerland). A Swiss friend prepared this for me when I was living overseas. It is a simple but tasty dish. The salt helps the pasta absorb the red wine color. I have translated the recipe from German so it may need some tweaking.

Top Review by KateL
Excellent balance of flavorful (wine) pasta with contrasting white alfredo sauce with the blessed sliced green onions. If you have an otherwise beige dinner, check this out! I use sauces and dressings as an accent, using the least amount needed to set off the dish, so I didn't need to feel guilty. Still, I will experiment on ways to make a very tasty sauce but diminish the sinful elements. I had previously made Recipe #353717 #353717, but this turned out an even more intense deep burgundy. The liquid amounts are sufficient to cook the pasta; I used two $6.99/ 750-ml bottles of Australian Yellowtail Merlot, which left me 500 ml of nice drinking wine for my meal. By all means, keep the abundance of sliced green onions; they flavor the sauce and make this dish sing. The cost of the wine is the cost of garnishing; everyone needs to shake things up once in a while! Thanks for sharing this recipe, I shall definitely make this again! Made for Spring 2009 Pick A Chef.
Sauce:.
In saucepan, heat butter over medium heat. Add green onions and saute until softened. Add cream and cinnamon and bring to boil. Let simmer 5 minutes.
Add Parmesan, stirring constantly. Season to taste with salt and pepper.
Pasta:.
In large pot combine red wine and water and bring to a boil. Add salt.
Cook pasta al dente, stirring occasionally. Drain.
Serve pasta topped with cream sauce.