Rotisserie Lemon-Rosemary Chicken
chefmnm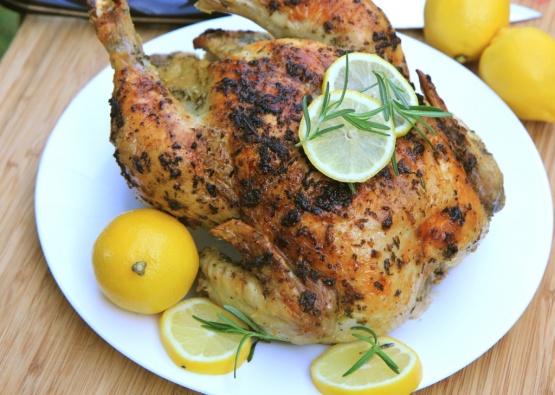 From the Ultimate Rotisserie Cookbook by Diane Phillips. Tangy lemon and pungent rosemary give this chicken its robust flavor. Cooking time includes the 8 hour marinating time.

I removed the back bone of my chicken with cooking shears, then laid it over indirect heat (on HIGH)) and grilled it for a little over 1 hour. It was so tender and juicy. This will get a repeat performance again very soon!
Wash chicken inside and out under cold water and pat dry.
Remove any excess fat from the skin and put chicken in a 2-gallon zip top bag.
Mix marinade ingredients and pour over chicken.
Marinate in refrigerator about 8 hours.
Remove chicken from marinade and drain.
Load chicken onto spit rod assembly. Truss according to manufacturer's directions, or tie the legs together and tie another string around the body and wings so the wings don't flop around during cooking.
Roast until an instant-read meat thermometer inserted into the thickest part of the thigh registers 175 degrees, about 20 minutes per pound.
Remove chicken from spit, cover loosely with foil and let rest for about 10 minutes before carving.