Rotisserie Chicken & Veggie Stew
VickyJ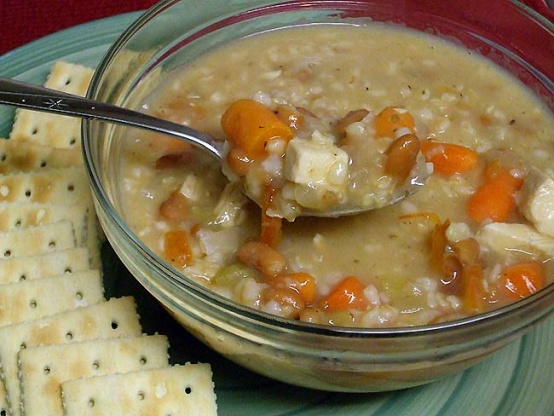 This stew is my own creation and absolutely fabulous w/honey cornbread or potato rolls. It's easy and inexpensive. Go to your local deli, grab an already cooked whole rotisserie chicken, some veggies, brown rice & broth and call it a night! This stew can also be made in the crockpot!

Top Review by VickyJ
Hi Tallie. This was made for dinner tonight. It was delicious. I'm only giving it four stars, because I messed up and bought the wrong kind of beans. I grabbed Pinto beans, which are a variety of kidney bean. Another thing, I left out the potato. I thought it would be too much with the brown rice and the beans. Other than that, everything was the same. I sliced my baby carrots in half and some thirds. This was also made for 2 servings. I did my best on ingredient amounts. On the side were just simple Saltines. Thank you for the hearty Friday night dinner..... for Spring PAC 2010.
separate chicken from the bone, disarding the skin and bones, retaining only the white meat. add remaining ingredients and bring to a boil. simmer for 2 hrs, or crockpot it. add cornstarch and water for thickening as needed.