Annacia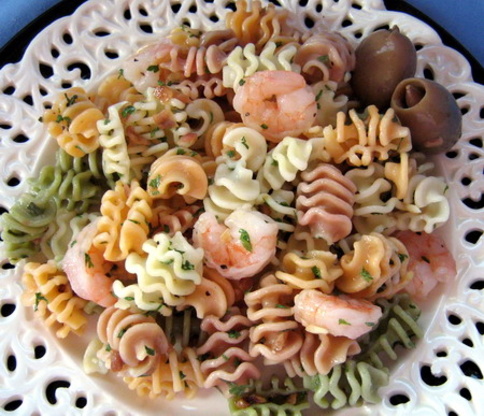 Really good and quick. My Mom used to make this all the time, although once she served it to guests and forgot to add the shrimp. Not quite the same that way! Try it, even the shellfish-shy will become believers.

This was great. I cut the fat even more by skipping the butter entirely and adding the shrimp to the pasta in the last 30 sec's. I mixed the ingredients and drizzled just enough oil over then to gloss and flavor the dish (maybe 1/2 a tsp on my single serving). I used lemon pepper in place of the peel. It was made in the morning and served chilled for dinner. I would have enjoyed some veggies added, broccoli and carrots sound good.
Cook rotini according to package directions, drain.
Meanwhile, in a large skillet melt butter and oil and sauté the shrimp, shallots and garlic until almost done.
Add remaining ingredients and continue cooking until shrimp is tender.
Stir in hot cooked rotini until evenly blended.