Roti De Porc Au Lait - Pork Loin With Whole Milk
Elmotoo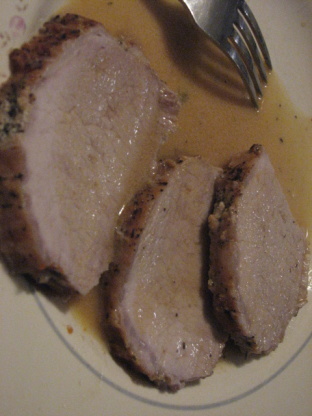 This is a French classic that is a perfect comfort food, inspiration taken from Anthony Bourdain's Les Halles Cookbook.

I never write reviews....however, this one needs it....I am qualified to help you here... ha ha....I am a huge home cook with diverse skills - I cook ethnic Italian from training under my mom and grandmother...I cook from all over the world where I've traveled....I think I mastered the pot roast 20 years ago but the braising of pork in milk threw me on this one...I followed the recipe exactly first time, and the second I modified slightly not to break the milk and my answer is that this is the best recipe I've ever tried with a pork roast (okay it ties for Pork but with Ancho chili sauce). Milk and pork may seem odd but in the end it very closely mimics a basic pot roast that I make that adds milk in the end, only this one is with pork. Here are my recommendations for a perfect dish. Buy a pork loin with a lot of dark meat and fat. No need to be particular on the chopping or selection of carrot, leak, onion, garlic - go with what you have and what you prefer (for instance, shallot would go well here). Bouquet garni can be your favorite - i tried the second time with Sage.....most important, luke warm milk, very little salt on the meat (I would pepper it only) or you may risk breaking the sauce. I might also increase the sauce to meat ratio a tiny bit if you are entertaining a large group. The result is fabulous - really a roast suitable for Easter. My accompaniments were roasted garlic smashed potatoes (starchy potatoes, cream cheese, a little milk and garlic/salt/pepper), simple sauted lacinato kale, asparagus and sauted wild mushrooms. Rock star meal. A permanent addition to my recipe collection. Thank you Anthony!!
Tie parsley, thyme, and bay leaf together to make a bouquet garni.
Season the pork with salt and pepper.
Heat the oil in a Dutch oven over medium-high heat, and add the butter. Brown the roast on all sides (6 to 7 minutes total).
Remove roast from pan and set aside. Add onion, carrot, leak, and garlic to pan and stir over high heat until soft (10 minutes or so).
Add the flour stirring constantly and cook for 2 minutes, then slowly add the milk and bouquet garni and bring to a boil.
Let simmer for 5 minutes then add the roast. Cover and cook over low heat for 1 hour making sure to rotate the pork every 15-20 minutes to prevent scorching. Remove the pork and let rest for 10-15 minutes.
While the pork is resting, remove the bouquet garni, and strain the cooking liquid into a small pot and bring to a boil. Using a hand blender or food processor, puree the sauce until foamy, and adjust seasoning to taste with salt & pepper.
Carve the roast and spoon sauce over and around.