Rotel Spicy Skillet Chicken
PaulaG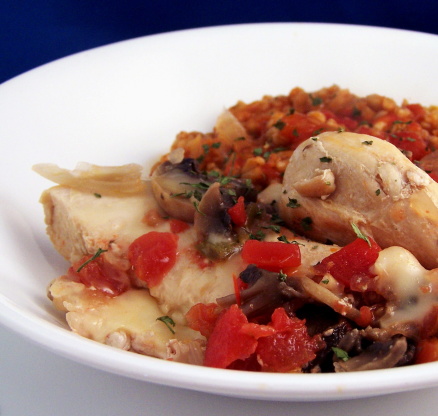 Found this recipe in a magazine and it looked wonderful so I decided to try it and it's absolutely great.

This recipe was incredibly easy and we really enjoyed it! I had to leave out the mushrooms (BF loathes them), but prepared the rest of the recipe as-written. This was the perfect amount of spice for us. The chicken was fabulous served over long grain brown rice with sauce over all of it...Mmmmm! Thanks, Skooch! This is a keeper and will go on the quick, but fabulous list! :)
In large skillet, cook chicken in hot oil until brown. Add onion and garlic, saute until tender, about 5 minutes.
Add mushrooms and ROTEL tomatoes; reduce heat. Cover and simmer 25 minutes, stirring occasionally until meat is done.
Sprinkle with cheese. Replace cover and heat until cheese melts.
Serve over rice.