seesko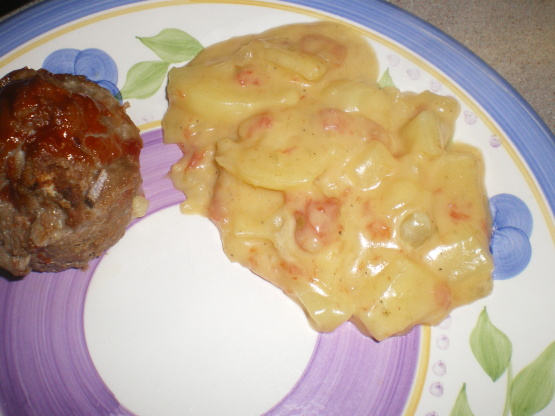 Potatoes with a kick. An excellent side dish.

The flavor was great but potaoes did'nt get soft in the oven...the next time I made these..I boiled the potatoe till soft,then added the rest of the ingredients...FABULOS!
10 -12

small potatoes, sliced 1/4-inch thick

1

small onion (chopped)

1

(10 1/2 ounce) can cream of mushroom soup

1

(10 1/2 ounce) can nacho cheese soup

1

(10 1/2 ounce) canrotel tomatoes and green chilies

0.5

(10 1/2 ounce) can water
salt & pepper
1⁄4 cup stick butter
Put sliced potatoes in a greased 9 x 13 cake pan (or throw away foil pan if grilling). Mix next six ingredients and pour over potatoes. Top with patties of butter. Cover with foil and bake at 350 for 40 - 45 min., or until ptatoes are done to your liking.