KateL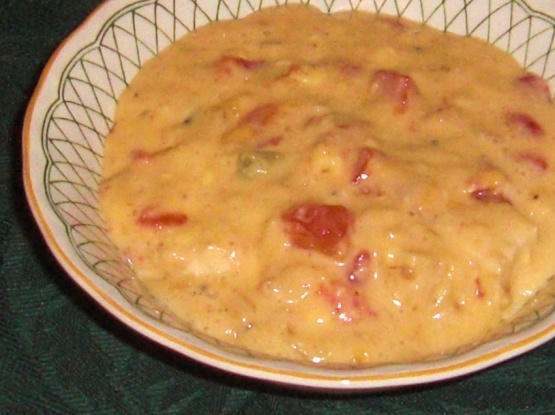 Slight kick, but absolutely delicious

Top Review by KateL
4 Stars for good nacho cheese comfort food taste, but the times given do not include time for cooking chicken, and the instructions for cooking the chicken are vague. I used diced chicken breasts I had previously baked for 50 minutes in chicken broth with a lot of chopped garlic and a healthy sprinkling of Emeril's Essence. DH goes wild over this combination. I heated the sauce ingredients in a double boiler. With the leftovers, I may use tortilla chips to scoop it up or serve it with steamed broccoli and water chestnuts for some contrast. Made for November 2008 My 3 Chefs.
Melt Velveta with Rotel, stirring occasionally.
Preheat oven to 350 degrees.
Boil chicken breasts until done.
While chicken is boiling, mix cream of mushroom soup , cream of chicken soup, and Minute rice with Velveta and Rotel.
Dice chicken, add to cheese mixture, and bake for 20 minutes.