Rote Grutze (Red Fruit Jelly)
Linky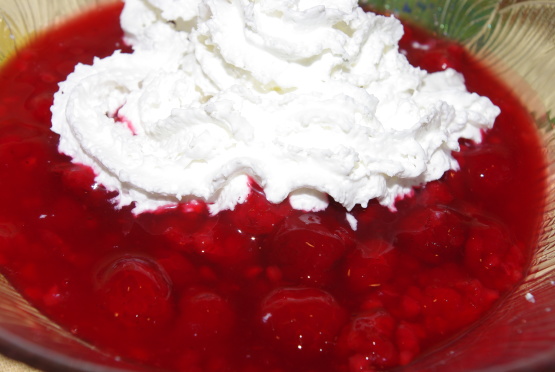 This is a very popular dish in Germany. You can use any type of berries you like or try it with cherries. It is mostly eaten with vanilla sauce but milk, ice cream or custard are also popular accompaniments.

Top Review by Linky
So when I was a kid and my mom talked about Rote Grutze, I thought she meant something like red grits, or cream of wheat or something in the cereal category. I'm glad it's actually this yummy fruit jelly! I used frozen red raspberries from my garden. I will try with different fruit another time. Made for Aussie/Kiwi Make my Recipe Reunion, Nov. 2011
300

ml fruit juice or 300 ml water

1

teaspoon vanilla

3

tablespoons sugar (or more, depending on the sweetness of your berries)

5

teaspoons starch (I used potato)

3

tablespoons cold water

400

g mixed berries, washed and drained (I like blueberries and red currants but feel free to use your favorites)
In a small pot bring the fruit juice or water, vanilla and sugar to a boil.
Meanwhile combine starch and cold water in a small bowl and stir to mix.
When water is just starting to boil, add starch mixture.
Let it come to a full boil; make sure to stir well as the starch will form lumps if you don't.
Mix in berries and turn off the heat.
Let your pot stand on the hot stove top for one or two more minutes, stirring once or twice.
Pour everything into a bowl and chill until the jelly has thickened. This might take one or two hours depending on how thick you want your jelly to be.
Serve with topping of your choice, or plain, and enjoy!