JustJanS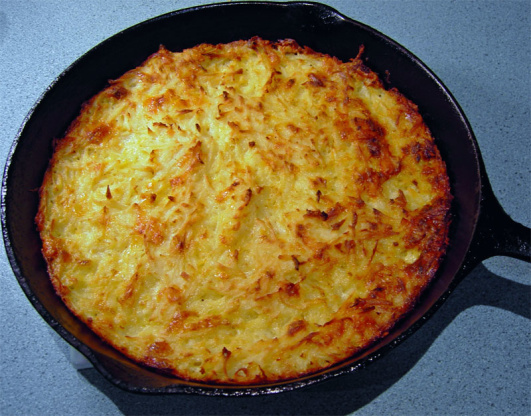 This is a lovely accompaniment for plain roast meats such as a leg of lamb. It is really easy to make and,as the potatoes are grated and not sliced, they cook more quickly than in the original French gratin dauphinoise.

We had these for dinner tonight and they recieved a bit of a mixed reaction. Russell and I really enjoyed them, but my son wouldn't eat them as he reckoned they were too creamy. I used low fat cream, so obviously that didn't affect them ;-) These are simple and fast to assemble and deliciously creamy. I also added a pinch of nutmeg and seasoned them very well.
Preheat the oven to 180 degrees centigrade.
Peel and coarsely grate the potatoes, ideally using the grating blade on a food processor or by hand using a sturdy box grater.
Lightly butter a 1.2 Ltr deep ovenproof dish, such as a souffle dish.
Mix together all the ingredients, then tip into the prepared dish.
Dot the top with butter and bake for 40 minutes until golden and cooked through.