Rostbraten Mit Pilzfulle (Beef Roast With Mushroom Stuffing)
teresas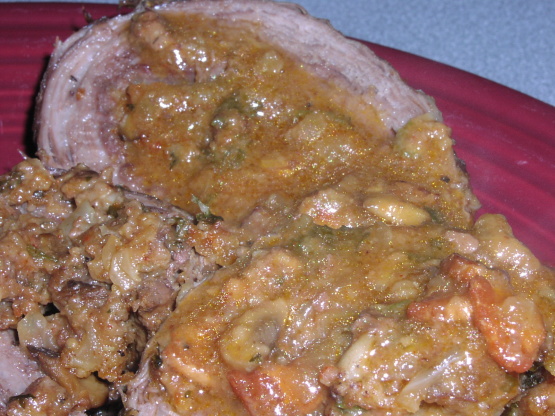 Not sure where I got this recipe but I've had it for years. It's a really nice entree and we love to serve it with German potatoes and green beans.

Wow! This is just so very delicious. The gravy comes out so tasty and thick. Great on top of recipe #200525. To create a great German meal, serve recipe #200524 as another side dish. The meat comes out nice and tender and the stuffing adds just a nice bit of additional flavor. Very easy to prepare and the taste is so very German. Thanks lazyme for posting. Made for PAC spring 08'
Lightly salt and pepper flank steak.
Spread one side with mustard.
To prepare stuffing, heat vegetable oil in a frypan, add onion and cook for 3 minutes, until lightly browned.
Add mushroom pieces; cook for 5 minutes.
Stir in parsley, chives, tomato paste, and bread crumbs.
Season with salt and pepper and paprika.
Spread stuffing on mustard side of the flank steak, roll up jelly-roll fashion and tie with thread or string.
To prepare gravy, cook bacon in a Dutch oven until partially done.
Add the meat roll and brown on all sides, approximately 10 minutes.
Add onions and saute for 5 minutes.
Pour in the beef broth, cover Dutch oven, and simmer for 1 hour.
Remove meat to a preheated platter.
Season pan juices with mustard.
Salt and pepper to taste; stir in catsup.
Serve the gravy separately.