Rosie's Pineapple Cream Pie
Kim D.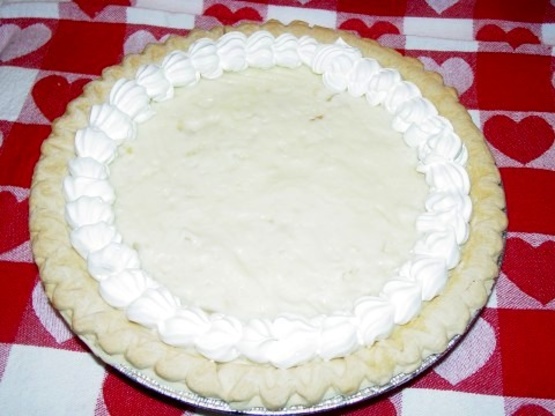 Rosie was my grandmother. It was a long time favorite we thought was lost for the past 20 years. Found her recipe by accident last year. What a way to remember her and it's now a favorite of the next generation. I made up the prep/cook time since I never timed it. NOTE: Do not use fresh pineapple in this recipe. Fresh pineapple has much more acid than canned pineapple and the pie filling will not stay firm. Hope you enjoy the pie (It's still my favorite!)

Simple to make and delicious. The only thing I did differently was to add a bit of coconut. My favorite part of this pie was the firm filling, no more of my familys runny pies lol!
Stir the milk, flour, salt, egg yolks and sugar on the stove until it thickens.
Take off heat and add pineapple.
Put in pie crust and let cool in refrigerator.
Serve with whipped topping.