Rosemary Vermouth Pork Chops
PanNan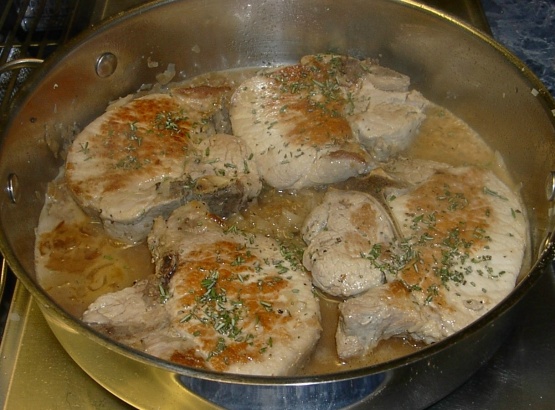 A festive recipe, I like to serve these pork chops with asparagus or broccoli, and a mixture of long grain and wild rice to which I add toasted, slivered almonds and grated orange peel. Bone-in pork chops always have more flavor.

Top Review by PanNan
This is an easy recipe, and it's well written. I used fresh rosemary so I didn't sprinkle it on until the end. We found these pork chops needed more flavor. This was my first time to use vermouth. When it was first added and brought to boil, deglazing the pan, it smelled great, After covering the pork chops, the juices from the pork chops diluted the flavor, and you couldn't really taste it. The shallot flavor was very mild, too. Next time, I think I'll add a little olive oil to brown them, add the shallots, then cover the pork chops and simmer slowly before deglazing the pan with vermouth, to get a stronger flavor.
Trim fat from edges of pork chops and reserve.
In a large skillet over medium heat, rub fat over bottom of skillet to grease well.
Discard fat and brown pork chops on both sides.
Season with salt and pepper.
Add shallots, vermouth and rosemary if using the dried.
Bring to a simmer over high heat.
Reduce heat to low, add in fresh rosemary if using, cover, and simmer gently for 10-15 minutes, until pork is tender.
Skim any fat from juices and pour over pork chops to serve.