Rosemary Tomato Chicken With Rice
VickyJ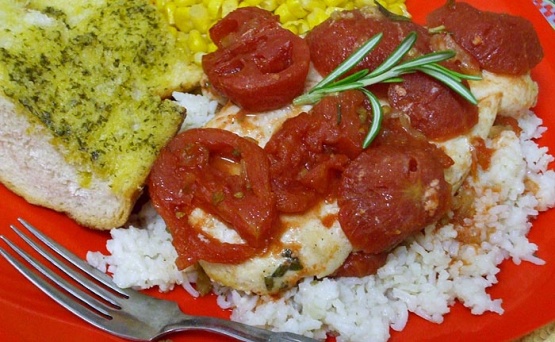 I got this recipe from a Sicilian girl I used to work with. She brought in left-overs one day for lunch and the aroma was making my mouth water. It's a really good fall or winter meal, very rich and savory. Plus, it's completely delicious.

Top Review by VickyJ
This was delish! Thanks so much for the Sunday night dinner! I served this with garlic bread. The only thing I did different was to halve the recipe, since it was just the two of us. I found the rosemary to be a strong flavor, but not in a negative way.... very good! Thanks again! :) This was made for Fall PAC '08.
Preheat the oven to 375 degrees.
Wash and tenderize the chicken and set aside.
Place the olive oil, and half the rosemary, salt and pepper in a bowl or deep plate. Note: depending on the freshness of your rosemary, you may want to modify the amount to more or less. Fresh rosemary can come out very strong in this recipe, so use discretion.
Dip each chicken breast into the olive oil mixture and place in a baking pan. Give it an extra couple sprinkles of the salt, pepper and rosemary.
Add the stewed tomatoes into the baking pan. Pour the remains of the olive oil mixture, plus any leftover rosemary, salt and pepper on top.
Cover the pan with aluminum foil and bake for 20 minutes.
At 20 minutes, remove the cover and flip the chicken breasts. Bake uncovered another 20 minutes, for a total of 40 minutes.
Serve over the rice and enjoy!