Rosemary Steamed Asparagus
BarbryT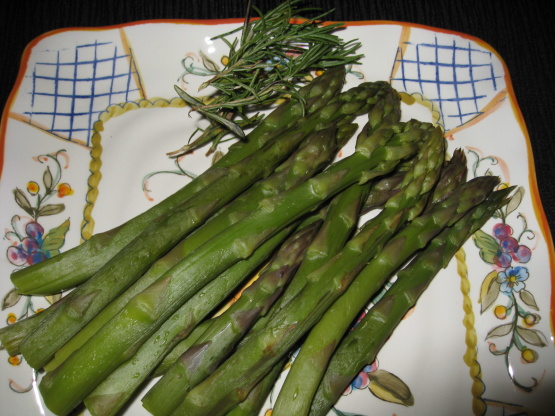 I threw this together when I was trying to use up some fresh rosemary. The herb really infuses into the asparagus this way. The minty flavor of the rosemary shines here, and is softened a bit if you use the chicken broth instead of the water.

A lovely way to fix steamed asparagus. The rosemary was evident in the final taste, which I liked. I had hoped for a bit of lemon flavoring but didn't find that. I may add a light sprinkling of lemon zest to the asparagus the next time I make these. And there will be a next time.
Put the water or broth, rosemary, lemon juice, and ¼ tsp salt in the bottom of a pot.
Add a steaming basket and put the asparagus into the basket.
Heat to boiling over high heat, reduce heat to medium and steam to desired tenderness.
Season with salt and pepper if desired.