Rosemary Roasted Vegetables
Sageca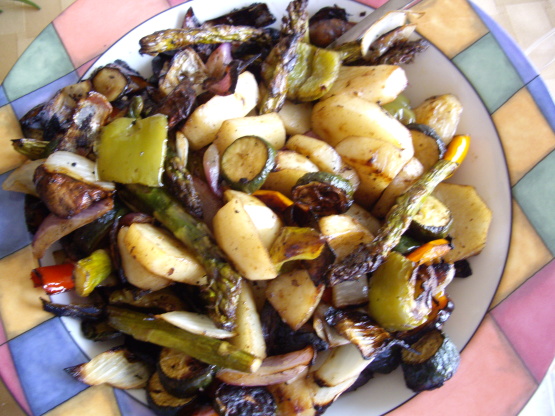 These veggies can be paired with literally anything. They are especially good eaten cold the next day. To cut the red onion leaving the stem in tact, cut off the bottom 1/4 of the onion OPPOSITE the brown stem. Then stand the onion on the cut edge and cut 6-8 chunks by slicing exactly through the center of the stem so that all the pieces have a little bit of stem holding them together in chunks. Tip: Since herbs are quite expensive, you could use dried herbes de provence (about 1-2 tsp.) to cut costs.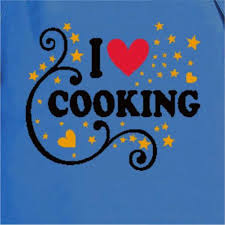 Top Review by Sageca
This was the prefect side with my BBQ; so good and so healthy. I id add a bit of Balsamic vinegar to the oil.I let the vegetables sit in the seasonning a couple hours before tranferring the to my basket on the grill.We loved it. Thanks for posting I made t his for WT 5. Rita
6

small yellow potatoes, quartered (Petite Golden Delight recommended)

1

red onion, cut into sections with stem left in tact (see recipe description above)

1

zucchini, cut in to thick, 1-in . coins

4

carrots, peeled and cut diagonally into 1/4 inch strips

5

garlic cloves, peeled and slightly crushed to release flavor

2

sprigs fresh rosemary, leaves removed and chopped
olive oil, just enough to coat (you don't want a pool of oil on your pan)
sea salt, to taste
black pepper, to taste
Preheat oven to 450 degrees.
Place all vegetables and rosemary on a large roasting pan or cookie sheet and drizzle generously with olive oil.
Sprinkle sea salt and pepper generously, then toss all ingredients together with your hands until vegetables are well coated.
Cook vegetables for 30-35 minutes, stirring them every ten minutes. You'll know vegetables are finished when potatoes have browned.