Rosemary Roasted Potatoes
-Sylvie-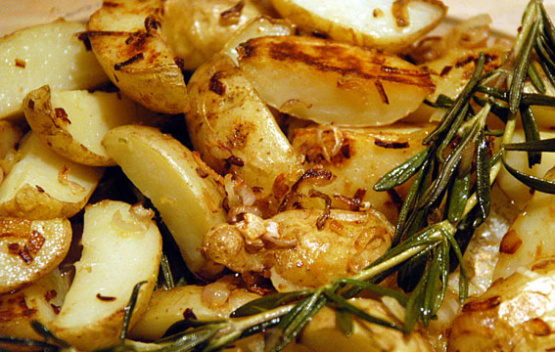 A very easy side dish. You could use dried rosemary, but fresh is better as the dried rosemary will not soften in this recipe.

I love potatoes this way. Very tasty and easy!
Preheat oven to 350°F.
Wash potatoes and cut into strips about 1/2 inch thick and 2 inches long.
Heat butter in a nonstick ovenproof skillet large enough to hold potatoes in one layer.
Add potatoes and shallots and sauté over medium heat for 15 minutes, shaking the pan or tossing potatoes every few minutes.
Add rosemary and toss with potatoes.
Bake in oven 10 minutes longer or until they are tender.