Rosemary-Roasted Jerusalem Artichokes and Tomatoes
tamalita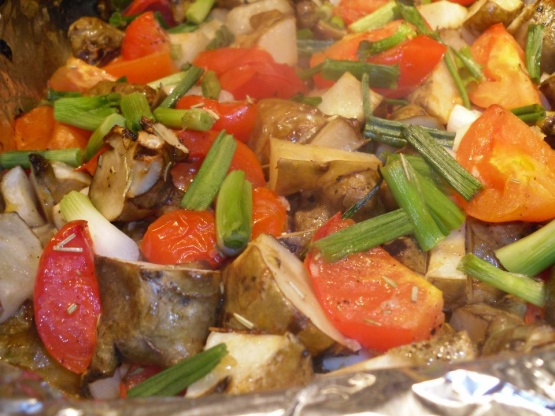 Oven roasting softens Sunchokes and addd a caramelized flavor that is enhanced by the rosemary, green onions and tomatoes.

This was delicious, and so simple. We had never had sunhokes, much less cooked them. Our neighbor grew a bunch and gave some to us. This recipe appealed to me because I love rosemary. Wow, what a wonderful dish. So flavorful. We also had homegrown tomatoes which were superb! Thank you!
Preheat oven to 400 degrees; spray jellyroll pan with cooking spray or line with release foil for easy cleanup.
Scrub chokes and cut into 1 1/4 inch pieces.
In pan toss sunchokes, tomatoes, garlic, rosemary, oil, salt & pepper; then arrange sunchokes around edge of pan and tomatoes in center.
Roast vegetables for 20 minutes; gently stir in green onions into sunchokes and continue to roast until chokes are tender and browned about 10 minutes longer.
Cool roasted vegetables 10 minutes, if you wish to remove skin from tomatoes( discard skin) or just Transfer to serving dish and serve.