Rosemary-Roasted Garlic Strip Steaks
karen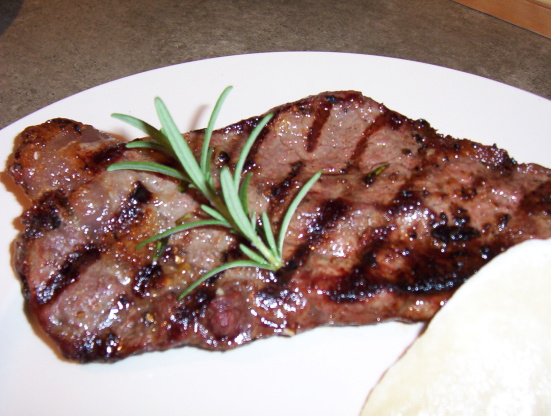 I got this as a free recipe card at the local store (Hart's). I will be trying this very soon as it looks wonderful.

Top Review by karen
This made a nice juicy steak. I have to admit that I couldn't taste the seasonings even though I used half the recipe amounts for only 1 steak. Still, everything was juicy and grilled up on the outdoor grill really well. I would be careful when roasting the garlic. The first time I burned it by leaving it in the oven just a couple of minutes too long, and the second time, at 30 minutes almost burned the outer cloves. I would suggest a lower temperature or shorter time frame.
Preheat oven to 400°F.
Peel away outer layers of garlic skin; do not separate cloves. Cut thin layer from top of garlic bulb, exposing tops of individual cloves. Place cut side up in a small bowl. Drizzle with about 1 teaspoon olive oil. Cover with foil.
Bake 25 to 30 minutes or until garlic in center is soft when pierced with a sharp knife. Cool slightly. Squeeze or scoop the Garlic paste from paper layers; discard paper layers. Mash garlic paste with a fork or spoon.(Maybe made to this point up to 2 days in advance and refrigerated until used).
Heat broiler to medium-high heat. In small bowl, blend garlic paste, the remaining 1 teaspoon oil, rosemary, garlic pepper, and onion power. Rub on both sides of each steak.
Place steaks on rack of broiler pan. Cook 6 to 9 minutes per side or to desired doneness.