Rosemary Roast Chicken With Smothered Potatoes
poedymom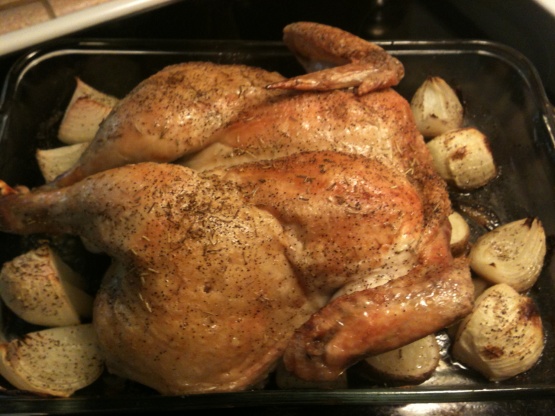 The reason the potatoes are called smothered here is because they are roasted under the flattened chicken, where they absorb all its juices. Prep time assumes the chicken is already butterflied. This is easy and delicious hot, tepid or cold. From "The Supper Book", Marion Cunningham.

What a fabulous recipe, Elisabetta47. And it goes together so quickly, too. The potatoes so tasty and made for a great side dish. I could not find a whole roasting chicken at the 3 stores I went to, so I used a skin-on fryer already cut up. It saved me the carving time but I'm sure still tasted just as fabulous as if I had used a roaster. I will definitely make this again. Made for Spring 2014 Pick-A-Chef.
Preheat oven to 425°F.
Brush a 9x13" baking dish with 1 T olive oil.
Butterfly the chicken (or buy it already done to save time).
Salt and pepper the onions and potatoes.
Place potatoes in center of baking dish.
Sprinkle with chopped rosemary and garlic.
Flatten chicken out over the potatoes and surround with onion quarters.
Drizzle remaining olive oil over chicken and salt and pepper generously.
Put chicken in oven and roast for 45 to 50 minute until skin is browned.
Pour off all the liquid and garnish with fresh rosemary branches.
Serve hot or cold.