ImPat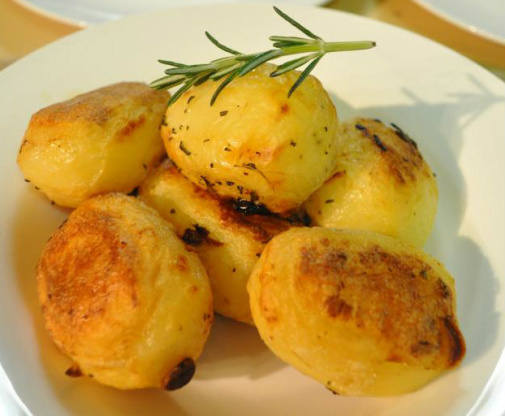 Italian style potatoes. Good served as a side

Top Review by ImPat
I peeled 7small potatoes for 4 of us (the DM is lucky to eat 1 but after I asked her for her opion on the potatoe and at this point she had declared herself full and coudn't eat any more she polished of that roasted potatoe) The rosemary didn't come through as much as I would have liked but the garlic was magnificent (we purchased some from a local grower and it is just so good) and all of us thoroughly enjoyed these tasty morsels and oh mine took and hour to cook as they were whole baby potatoes. Thank you **Jubes** made for Aussie/Kiwi Recip Review game November 2012.
Preheat oven to 200°C or 400°F.
Brush a large baking dish with oil .
Remove the leaves from the rosemary sprigs, discard the stems, chop roughly. Set aside.
Place a layer of potatoes in the baking dish. Sprinkle over a little of the garlic and rosemary. Season with some salt and pepper.
Repeat adding potatoes and seasoning.
Drizzle over the oil.
Bake, stirring frequently for 45 minutes to one hour, or until the potatoes are tender and lightly browned.