Condor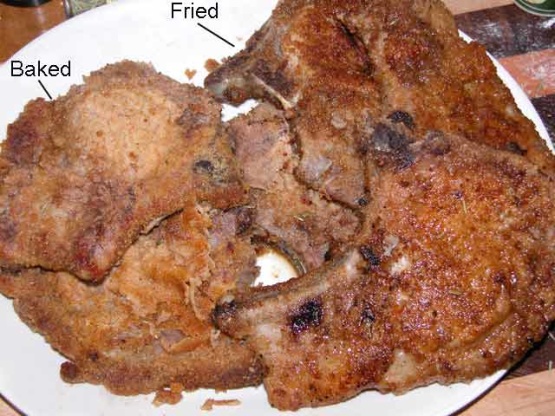 This recipe makes 3 batches on breading and can also be used on chicken.
1 1⁄2 cups dry breadcrumbs
1⁄2 cup flour
1 1⁄2 teaspoons salt
1 1⁄2 teaspoons crushed rosemary

1

teaspoon paprika
1⁄4 teaspoon onion powder

3

tablespoons oil

6

bone in pork loin chops
in bowl combine first 6 indgredients.
stir in oil until crumbly.
seperate into 3 equal containers at this point.
To prepare pork chops.
Place mixture into resealable plastic bag.
Place small amount of water in a bowl.
Dip pork chops into the water.
Place them in bag and shake to coat.
Place in 9X13 baking dish and bake at 425 degrees for 25 mins.
May also be cooked on stove top in skillet w/oil for 4 mins on each side.