Rita1652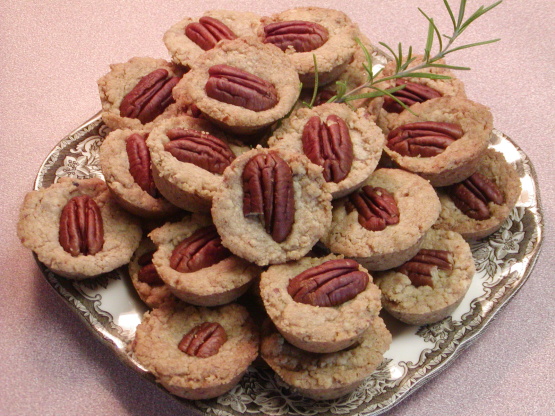 Although I haven't made these cookies yet, I came across this recipe while looking for different ways to use garden rosemary. Recipe source: Gardener, winter 2004. Refrigeration time (20-30 minutes) is included in prep time. 11/24/04 Recipe edited thanks to reviewers comments.

Well I tried to get in touch with Ellie to find out how much flour went into this recipe since it`s not posted above. I suggest using 1 1/2 cups flour I also added 1/2 teaspoon baking powder. I used mini muffin tins as to have them go father. Pressed the dough just to the rim. I got 28 cookies. The perfect size. I think the regular size would be to large. I didn`t refriderate just popped them into the oven. These would be a 5 star but with the guessing on how much flour to use. The directions could be better. I can`t imagine what a chopstick would do so I didn`t bother. Very tasty I really enjoyed the hint of rosemary. Another batch of cookies to add to my Cookie Christmas list!! Thanks Ellie!
Preheat oven to 350°F.
In a large bowl, cream butter and sugars until light.
With mixer on low speed add flour, ground pecans, salt, vanilla and rosemary and mix well. Dough will be crumbly.
Fill 12 cups of muffin tin with dough patting the dough firmly into each cup with your fingers.
Put muffin tin in refrigerator for 20-30 minutes.
Optional: with a skewer or chopstick mark each cookie with a decorative pattern.
Place one pecan half in the center of each cookie.
Bake 15-20 minutes or until centers are firm to the touch and edges are golden brown.