Rosemary Mashed Potatoes and Yams with Garlic and Parmesan
PaulaG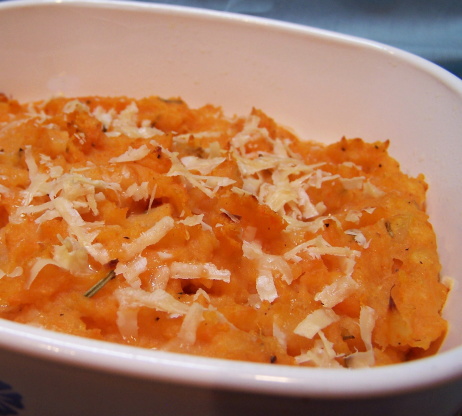 I got this recipe from All Recipes, and it's a keeper!

Absolutely love it! This is the best sweet potato dish I've ever had. I like the mix of sweet and regular potatoes to cut down on heavy sweet potato taste, and the garlic and rosemary are perfect coompliments. We couldn't stop eating them. I'll make this one all the time, and have already decided it will be a yearly addition to our Thanksgiving table. I made them using soy milk, Smart Balance margarine, and soy parmesan with excellent results. A thousand thanks for sharing this little gem!
Preheat oven to 350 degrees F (175 degrees C).
Put garlic in small ovenproof bowl, and drizzle with olive oil.
Roast for 30 minutes, until very soft.
Cool, peel, and reserve oil.
Cook potatoes and yams in a large pot of salted water until tender, about 20 to 30 minutes.
Drain, reserving 1 cup liquid.
Place potatoes in a mixing bowl.
Add milk, butter or margarine, rosemary, garlic, and reserved olive oil.
Mash until smooth as desired, adding reserved cooking liquid as needed.
Mix in 1/4 cup cheese.
Salt and pepper to taste.
Transfer to a buttered or oiled 8 x 8 x 2 inch baking dish.
Sprinkle with remaining cheese.
Bake for 45 minutes, until heated through and golden on top.