Rosemary Lemon Pepper Chicken
Elmotoo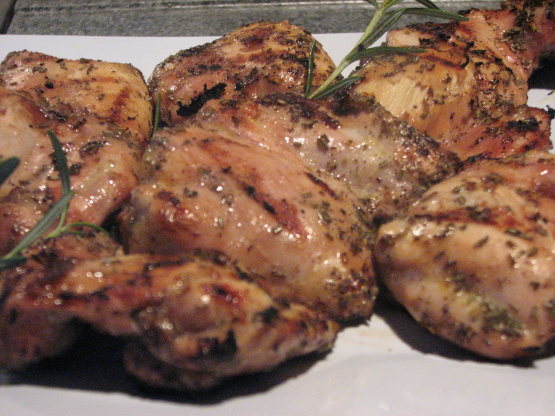 This is delicious - and I love the smell while it is cooking!! I have always used fresh rosemary for this- never the dried. Cook tiime does not include the marinading time.

It doesn't get any easier!!! This is delicious!!! I used lemon juice & pepper & grilled instead of baked. Mom requested it for the next big bunch of people who stay with us!!! A ringing endorsement! Great recipe - photo to follow before the month is up!
Place chicken pieces in a deep enough tupperware dish (I like the tupperware because you can turn it over and shake to mix everything).
Put seasonings over chicken.
Place rosemary in container.
Cover with water - enough so the chicken is completely submerged - cover and shake to mix.
Marinade at least 2-3 hrs, overnight or longer is even better.
When ready to cook:.
Spray baking pan with Pam.
Place chicken in baking pan.
Cut each rosemary sprig in two and place one piece under each piece of chicken.
Bake at 370 for 30-40 minutes - or until chicken is done.
Enjoy!