ImPat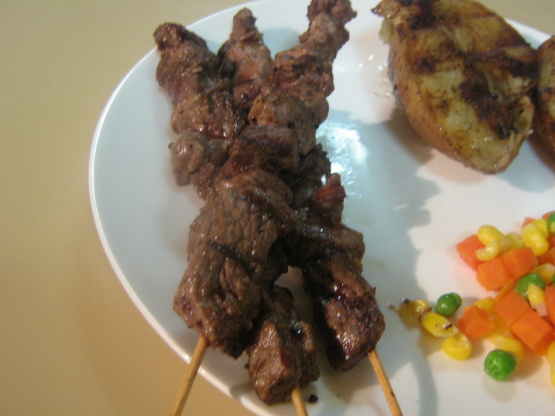 A really nice way to serve lamb at your next barbeque.

Top Review by ImPat
Oh wow the flavour on the meat when cooked is to die for. I did use a deboned leg of lamb cut into cubes (total cost for 700g of meat $12.00) - lamb fillet or backstrap $36 to $40/K and well we were greedy guts and 3 of us gobbled up the lot sacrificing some of our vegies. I did marinate my meat for 24 hours and cooked on an indoor grill (used some of the excess marinade to oil the grill) and then seared the skewered meat (unfortunately had to use regular skewers soaked for a couple of hours as my rosemary is too young at the moment but as it matures and I strip to dry I will be making skewers for next time round) and finished in the oven so I could grill my baked potatoes from the oven. Thank you FrickersMum for a really great recipe, made for PAC.
Remove any sinew and cut the meat into long strips. Place into a glass or china bowl (not metal) and add the last 5 ingredients ingredients. Marinade in the fridge for at least 4 hours and up to 12 hours.
Strip the rosemary stalks leaving about 3 inches of leaves on the ends for presentation. Cut the opposite end into a point. Thread strip of meat onto the skewers, pushing it up towards to rosemary leaves.
Place on the barbecue with the rosemary stalks hanging off the end (or else they will burn). Brush with the marinade occasionally.
They will cook very quickly.