PaulaG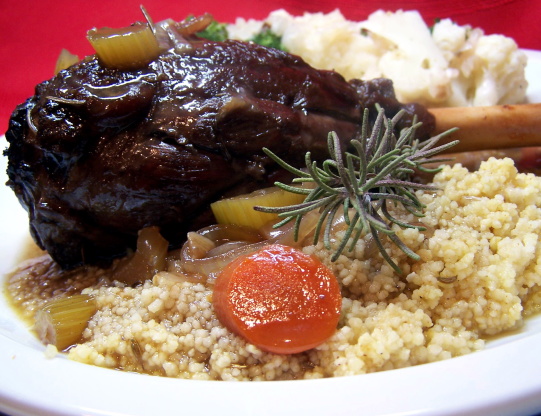 This is our favorite recipe for lamb shanks. I always double the sauce because we love to have some over mashed potatoes. The sauce takes a while to make, so you can make it a day ahead if you like. From the Bijou Cafe, Sarasota FL, courtesy of Bon Appetit.

I made these lamb shanks for dinner two nights ago for DH, myself, and my aunt. We loved them and especially enjoyed the flavorful sauce! I actually used 4 lamb shanks and kept the rest of the proportions the same. This dish required very little prep and I was able to leave the shanks in the oven, go to my class, and then come back and it was almost ready. I used fresh rosemary and rioja wine. I served with Rita's Recipe #106251 as a side and it complimented nicely. As I was out of potatoes, we served the lamb over egg noodles. This worked, but I imagine mashed potatoes being even better. Thanks for a keeper.
Preheat oven to 375ºF.
Heat oil in heavy large Dutch oven over medium-high heat. Season lamb shanks with salt and pepper. Working in batches, add lamb to Dutch oven; brown on all sides, about 8 minutes per batch. Transfer lamb to plate. Add carrots, celery, onion and garlic to Dutch oven; saute until light brown, about 4 minutes. Add 1 3/4 cups wine; bring to boil, scraping up any browned bits, about 2 minutes. Add both broths, rosemary and bay leaves. Return lamb to Dutch oven; cover. Cook in oven until lamb is very tender, stirring occasionally, about 1 hour 30 minutes.
Transfer lamb shanks to platter. Tent with foil. Strain cooking liquid, reserving vegetables. Discard bay leaves. Return liquid to Dutch oven. Boil liquid until reduced to 1 1/2 cups, about 10 minutes. Mix remaining 1/4 cup wine with cornstarch until smooth. Add to cooking liquid and simmer until thickened, stirring frequently, about 5 minutes. Return lamb and vegetables to Dutch oven. (Can be prepared 1 day ahead. Cover and refrigerate.).
Simmer lamb until heated through. Season to taste with salt and pepper. Arrange lamb and vegetables on platter. Spoon sauce over. Garnish with rosemary sprigs and serve.