Rosemary Infused Sweet Shortbread
Katzen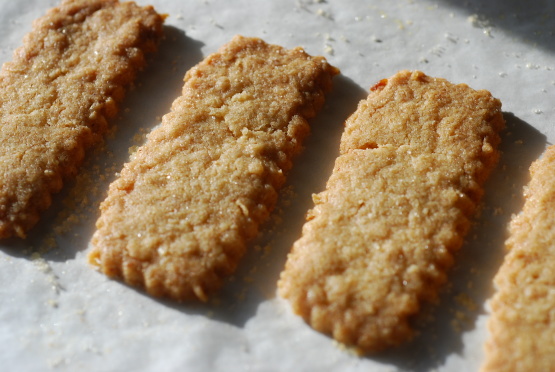 This very unusual, but super yummy recipe was the first one my mum, my sis and I made after several years of not making christmas cookies together. We all were a little sceptical at first due to the combination of sweet and savoury flavours, but the end result convinced us all! What a great, easy and very, very yummy cookie recipe! The original comes from the cookie spread 2009 of a leading German women's mag, called "Brigitte". I hope youll enjoy it as much as we did!

Top Review by Katzen
Just wonderful! I made the rosemary butter for this recipe a week or so ago, but never got round to making the cookies, an I'm so sorry that I didn't make them for Christmas - they would have sure been the hit! These are a real sleeper recipe, Laloula! I used the zest of a whole organic lemon, and this was the first time that I've used spelt flour and organic sugar. Such lovely touches! I used a shortbread cutter to cut them. Do watch them carefully - they go from golden to brown quickly! Made for PRMR Tag.
2

sprigs fresh rosemary

250

g butter (no subs)

1

teaspoon salt (sea salt in the original recipe)
1⁄2 lemon, organic, zest of (optional)

300

g spelt flour

150

g organic unbleached cane sugar
Rinse rosemary and shake dry. Heat butter and salt in a small pot over medium heat, add rosemary. Bring to a boil and let simmer for 1 minute. Remove from heat and allow to cool a bit.
Strain the liquid butter through a sieve and put it into the frigde to solidify again. (if youd like to have an even stronger rosemary flavour, leave it in the butter for 1 hour and strain butter then.).
Combine flour, lemon zest (if using) and 120 g sugar in a big bowl. Add rosemary infused butter in small pieces and knead into a smooth dough.
Roll out the dough to a thickness of 1/2 cm approximately (0.2 inch) and let rest for 30 minutes in a cool place.
Prick with a fork and sprinkle with the remaining sugar.
Bake in the preheated oven at 200°C/375°F on a lower rack for about 12-16 minutes or until slightly golden.
Let cool and break into pieces when completely cooled. Store in an airtight container for up to 2 weeks.