Rosemary & Garlic Oven Fries
Bergy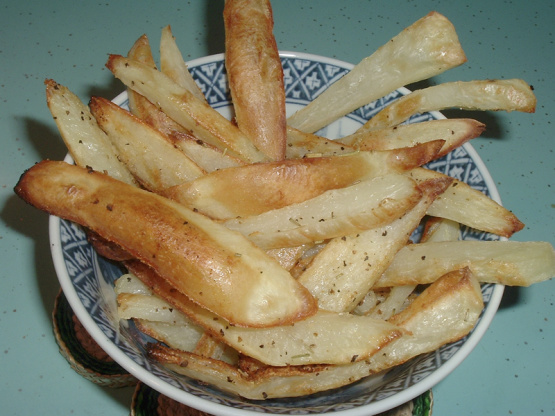 I love this recipe because it dresses up regular old oven fries.

Yummy. I used dried marjoram as I didnt have any dried rosemary after deciding on this recipe. I used yellow potatoes which were good, a bit extra sea salt, canola because I need to buy olive oil. It would be better with olive oil I know that. I cut them as stated but was cooking with another dish so they were on 375F rather than the 475F which I think is to high anyway and a couple got a bit to dark, but that may be my oven. I served them with Recipe #355410 and Recipe #308203 and Helmans olive oil mayonnaise and corn free ketchup from the health food store for a good meal for DD (toddler) and I. I would like to make these again with olive oil and dried rosemary or still using marjoram.
Preheat oven to 475°F.
Spray 15 1/2 x 10 1/2-inch jelly roll pan or large cookie sheet with nonstick cooking spray.
Cut each unpeeled potato lengthwise in half.
Holding each potato half flat side down, cut lengthwise into 1/4-inch thick slices.
Then cut each lengthwise into 1/2-inch wide strips.
Place potato sticks in pan; toss with oil, salt, pepper, rosemary, and garlic.
Arrange in single layer on pan and roast for 30 min (or until sticks are tender and golden).
Be sure and turn the potatoes once halfway through roasting time.