Rosemary - Garlic Focaccia
gerry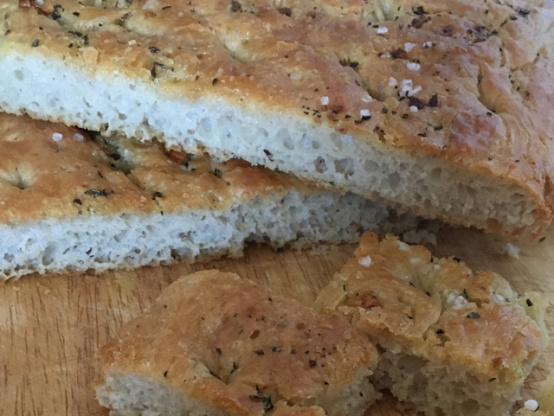 I was lucky enough to have my Italian uncle Pat make this for me all through my teens. I like to think now that it sustained me more than physically. I could eat this every day and never get tired of it - it's the perfect bread.
Have been making this one for years, and have passed on to several others - including those who said they can't make bread.... can also be cut into squares for dipping into seasoned olive oil and vinegar for an appetizer. Sure to impress ! Love Evelyn and have followed her for years.
In a bowl, stir together yeast, sugar and 1 ¾ cups lukewarm water and proof yeast for 10-15 minutes, or until foamy.
Stir in 4 cup of flour, 1 tblsps of the olive oil and the salt, adding as much of the remaining flour as necessary to form a soft and slightly sticky dough.
Transfer to a lightly-oiled bowl, turn to coat, and let rise, covered, in a warm place for 1 hour, or until double in size. Knead dough down and press with lightly-oiled hands into a well-oiled 15 ½ x 10 ½ inch jelly-roll pan and let it rise, covered loosely, for 30 minutes.
Preheat oven to 375 degrees F. Set rack in center of oven.
Dimple dough with your fingers in places, drizzle 2 tblsps olive oil over and spread over dough; sprinkle with rosemary, garlic and sea salt.
Bake for 35-40 minutes or until pale golden. Let cool for 10 minutes before cutting. Serve warm or at room temperature.
Note: I often make up the garlic/oil/rosemary mixture one or two days ahead of time and refrigerate it. Dried oregano is also a GREAT add-in.