Rosemary & Garlic Coated Pork Cube Steaks
Debbwl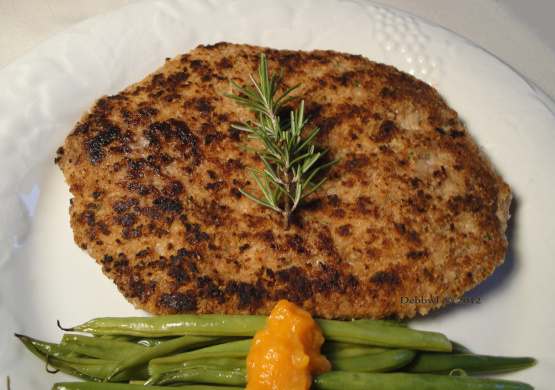 Rosemary and garlic just seem to go with pork, just as coating and pan frying seem to go with cube steaks. So it only seemed natural they should all come together in one dish.

I ground everything to a powder to keep DH from complaining about chunks. Even though the coating lacked a bit of texture all the flavor was there and we both enjoyed it a lot. Of course the tenderized cutlets were exactly that, Tender, and they cooked to a lovely golden color with just a tiny amount of oil. Thanks Deb for another keeper. :D
Place flour, walnuts, parmesan, rosemary and garlic powder in food processer and process for 1 – 2 minutes till coating consistence; place mixture in a pie plate and set aside.
Heat the oil in skillet.
Season cube steaks with salt and pepper; then dredge in the flour mixture.
Cook for 3-5 minutes on each side depending on size of meat.
Serve immediately.