fawn512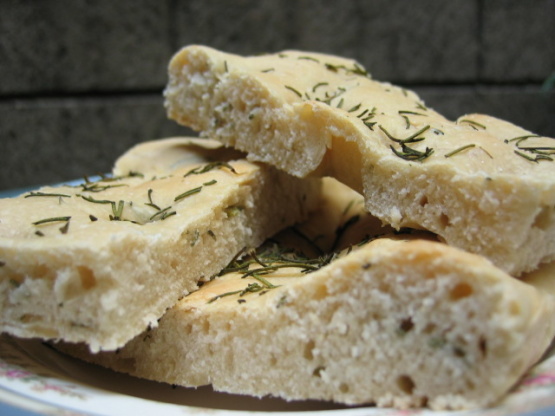 Nothing is better than smelling fresh rosemary and fresh baking bread! This has been a favorite of mine for several years now. Prep-time includes rising time.

This is now my favorite, "go to" recipe for focaccia! I made it as directed, with two exceptions: I did not have bread flour, so used regular, all-purpose flour, and also sprinkled a mix of Italian herbs into the flour before mixing. The directions and rising/cooking time were perfect. I did, however, cook the loaves separately; one on a baking stone and one on a baking sheet. The loaf on the baking stone came out the best - crustier and a nicer golden brown. The bread was absolutely delicious and looked wonderful. I'll be using this recipe a LOT - it really doesn't take very long to make, and the taste is scrumptious. Definite winner, Kim!
In a large mixing bowl, combine flour, yeast, 1 tablespoon rosemary and 1 1/2 teaspoons salt.
With a wooden spoon, stir in water and 3 tablespoons olive oil; beat mixture vigorously for 5 minutes.
Cover bowl with a clean towel and let dough rise in a warm place, away from drafts, until doubled in size (about 40 minutes).
Turn dough onto a floured surface and gently knead for one minute.
Lightly oil two large baking sheets (I use baking stones).
Divide dough in half, placing one half on each baking sheet.
Press or roll out each to a 10-inch round.
Cover rounds with clean towels and let rise until doubled in size (about 30 minutes).
Preheat oven to 400°F.
With finger tips, make indentions all over surface of focaccia and brush each round with 1/2 tablespoon remaining olive oil.
Sprinkle rounds with remaining rosemary and sea salt.
Bake 15 minutes or until golden.
Cut in wedges and serve warm.