loof751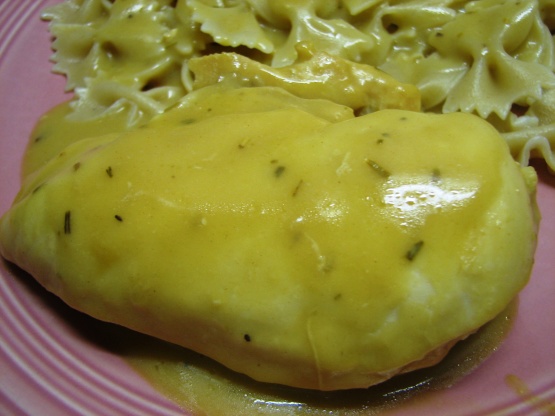 This was one of the first things I learned how to cook on my own, back in junior high school (not including eggs and grilled cheese sandwiches). My mom got the recipe from a dieting group she was with at the time. Edited: I just made this again, so I have edited the recipe to reflect what I actually did. there were many raves at the dining table over this one. :) Serve this with rice or something to soak up the yummy sauce and you won't be disappointed.

Quick, tasty and so easy, anyone can make it! Don't be fooled by the photo - the sauce looks green in the picture for some reason! It is definitely better if you make this with the sweetest orange juice you can find. I used fresh rosemary that I snipped from a plant in my garden and I also let the sauce reduce by about half to make the sauce more flavorful.
1

tablespoon vegetable oil

1

cup orange juice (fresh squeezed if you can get it)

2

tablespoons Dijon mustard

1

teaspoon dried rosemary, crushed
salt and pepper
Heat oil in a nonstick skillet over medium high heat.
Add chicken breasts and brown on both sides, about 3-5 minutes per side.
Mix orange juice, mustard and rosemary.
Pour over chicken.
Simmer another 10 minutes, turning chicken occasionally.
Remove chicken to serving dish and turn heat to high. Boil sauce to reduce 1 or 2 minutes until it is thick enough to coat the back of a spoon, and pour over chicken.