Rosemary Cod With Mashed Rutabaga
twissis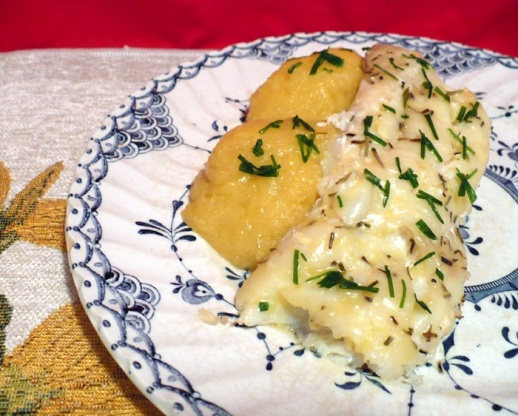 Cod is perfect for this recipe since it is so easy to insert herbs under the skin. Scandinavians love rutabaga. It is one of the few vegetables to last through the long cold winter. Infused with vanilla, it makes the most interesting contrast to the lightly salted fresh cod. Recipe adapted from Andreas Viestad from Kitchen of Light.

*Andreas Viestad* is a renown Scandanavian chef, his *Kitchen of Light* his best work & this dish is a classic favorite here in Iceland - esp w/my DH + my MIL who joined us for dinner last nite. I used North-Atlantic cod caught just off the coast of Iceland by my BIL & my immersion blender to puree the rutabaga, but a simple potato masher works very well w/the tender rutabaga & saves using an appliance. I used dried rosemary (sorry), but the outcome did not seem to suffer & certainly did not disappoint. After plating as suggested, I used my pastry brush to lightly brush the cod fillets w/a bit of melted butter & then sprinkled w/fresh-snipped chives (mostly as a color variant, but I like using them too). My DH & MIL were generous w/praise so you should be pleased. I know I was. Thx for sharing this recipe w/us.
Soak the fish in ice water for 15 to 20 minutes. Pat dry with paper towels.
Preheat the oven to 400°F (200°C).
Bring a large pot of water to a boil. Add a pinch of salt and the rutabaga and cook for 25 to 30 minutes, until soft. Drain and then return to the pot and cook over low heat, 1 to 2 minutes.
Puree rutabaga in a food processor and return to pot.
Add vanilla seeds to the mashed rutabaga. (Discard the bean or add it to a canister of sugar to make aromatic vanilla sugar.).
Stir butter into the rutabaga mixture until it melts. Season with a pinch salt. Keep warm.
Meanwhile, make a small incision through the skin of each cod fillet and carefully insert a rosemary sprig. Sprinkle with salt and pepper and rub with olive oil. Place fish in a roasting pan and cook for about 15 minutes, until the fish flakes easily.
Place a heaping scoop of rutabaga on each plate and top with fish. Serve.