Annacia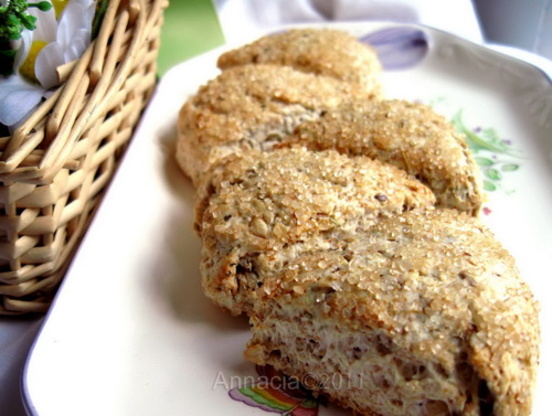 On the whole I liked these. Made a half recipe for 6 small scones that came out a lovely size. I found the dough to be a bit dry and needed to add another Tbsp of milk. That might well have been due to the fact that I use "porridge" oats that have flex seed, oat bran and a few other such things mixed in. Need to mention that I used Splenda for the sugar. The earthy flavor of the rosemary was a nice counterpoint but I found it a bit heavy for my taste. I would lessen the amount by a quarter to a half next time. Made for Healthy Choices.
Spray a baking sheet with nonstick coating; set aside.
In a large bowl combine flour, oats, sugar, baking powder, orange peel, rosemary, and salt. In another bowl stir together milk, oil, and egg product.
Add milk mixture all at once to flour mixture. Stir just until moistened.
On a lightly floured surface knead dough 10 times. Lightly roll or pat dough to an 8-inch circle, about 3/4 inch thick. Cut dough into 12 wedges.
Carefully transfer wedges to prepared baking sheet.
Bake in a 400 degree F oven for 15 to 18 minutes or until golden brown.
Remove from baking sheet and cool on a wire rack for 5 minutes; serve warm.