Rosemary Chicken With Apples and Onions
CoCaShe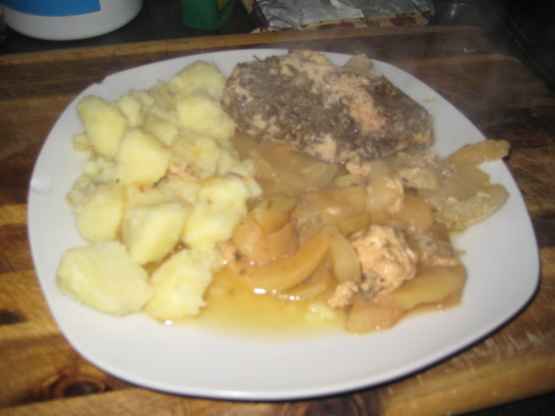 I saw this on the Food Network, but can't remember what show it was on. I had to alter the original recipe, because my husband refuses to eat "Cream of (anything)" soup. Note: I take the liquid/sauce left after cooking to make whipped potatoes, using it in place of milk and butter.

This recipe was nice and easy in the slow cooker. I wasn't sure what to serve it with, I just made plain potatotes, but I think something like wild-grain rice would go better as it has a comforty, earthy taste. When I first put it in the slow-cooker, I was worried that there wasn't enough liquid but when I served it there was too much - I guess the onions and apples bled out quite a bit.
Place onions and apples in crockpot; place chicken breasts on top.
Sprinkle salt, pepper, and rosemary over top of chicken.
Mix together milk, broth, and flour until well blended. Pour over chicken, onions, and apples.
Cook on low 6-8 hours. If desired, baste chicken occassionally with sauce. Remove chicken, onions, and apple from pot. Serve.