Rosemary Chicken - Low Carb
Juenessa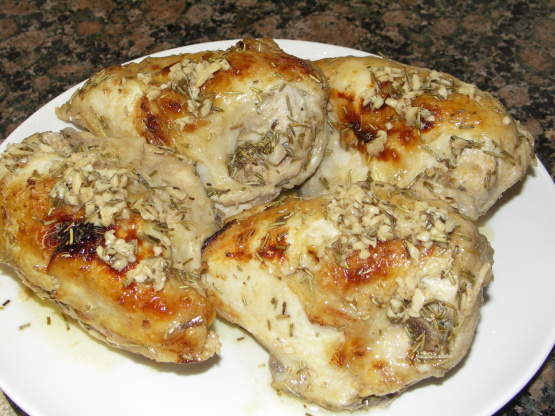 This recipe came from my MIL, it is so simple and so delicious. Great for those low carbing. I often double the sauce ingredients, we pour it over the chicken & sides after its done.

I tweeked this a wee bit but only by using garlic instead of garlic juice. I thought it needed salt and pepper but other than that it was superb!!! Also, I live at a very high altitude so I baked it longer. I turned it after about 40 minutes then baked it until the skin was golden and crunchy. An added plus is that DH and I are doing Atkins right now and it's totally legal!!!! Loved this recipe!!!
Preheat oven to 375.
Mix all ingredients in a small sauce pan and heat on med-low until butter is melted, stir and set aside.
Place chicken skin side down in a baking dish (choose a baking dish that the chicken fits in snuggly).
Pour the sauce over the chicken.
Bake for 30 minutes.
Turn chicken over, baste& bake 30 more minutes or until top is crisp& chicken is cooked through.
Serve it with Rice& steamed veggies.
If low-carbing just skip the rice, pour the sauce over the veggies, so good.
I have made it with boneless skinless breasts, it's still good, we just prefer it this way (be sure and adjust the baking time).
I have never substituted real garlic for the garlic juice and personally wouldn't, but you can try.
BUT- If you have never tried garlic juice I highly recommend it, it is different than real garlic, it gives a wonderful flavor!