Rosemary Cheese-Crusted Potatoes
ImPat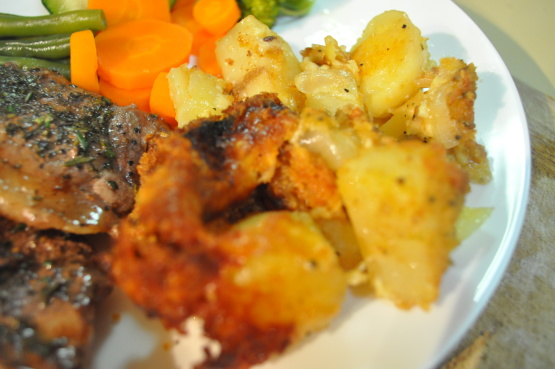 Yum! Potatoes, Garlic, Onion and Cheese....what's not to like? From Positive Maturity magazine.
Saute the onion and garlic in the olive oil in a large skillet over medium heat, stirring constantly, until tender. Stir in the potatoes, seasoned salt, pepper, and lemon rind.
Grease a 1 1/2 quart casserole. Place half the potato mixture in the casserole dish. Sprinkle with 1 cup of the cheese. Repeat with the rest of the potatoes and cheese.
Combine the breadcrumbs, butter and rosemary; stir well. Sprinkle the breadcrumb mix evenly over the potatoes.
Cover and bake at 400 degrees for 40 minutes. Uncover and bake an additional 20 minutes or until your potatoes are tender (depends on how small you chopped them).