awalde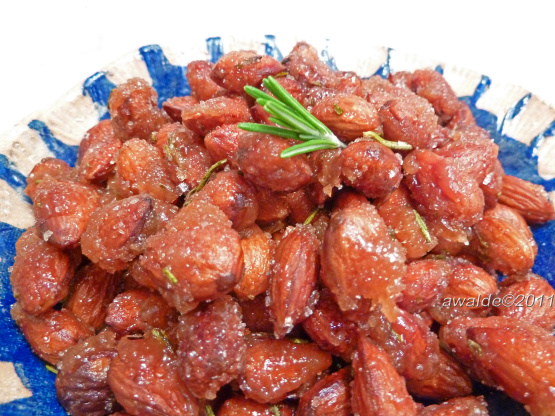 Dressed up almonds, a nice change from mixed nuts! Adapted from Martha Stewart magazine.

Top Review by awalde
I had problems after step 3. The sugar clotted together and didn't coat the almonds.
I passed them to the oven, but after this time the sugar didn't melt.
I sapareted the sugar, heated in the skilled again until it melted and I added the already roasted almonds again, heated and stirred until really coated.
They came out delicious. The fragrance from the rosemary was trasmitted though the fat to the caramel and as i seved them, everythink has gone.
I suppose that the first time the sugar was bubbling, but not enogh hot to coat the cold almonds. Perhaps it would be better to heat shortly until the almonds are coated. I cannot generalize as I can't say how hot it was and how much is in this case in others home.
But no problems at the end, they were top and would prepare these again! But this time heating them more.
Preheat the oven to 375*F.
Stir togther 4 teaspoons sugar and 1/2 teaspoon salt. Set aside.
Heat butter and honey over medium high heat in a large skillet until bubbling. Remove from heat.
Add almonds and rosemary to skillet, and toss gently to coat.
Move the almond/rosemary mixture to a rimmed baking sheet(don't scrape excess syrup from skillet).
Sprinkle with sugar/salt mixture. Roast almonds until fragrant, 8-9 minutes. Sprinkle with 2 teaspoons sugar and 1/2 teaspoon salt.
Toss to coat. Let cool completeley. Enjoy!