Rosemary Buttered Noodles
karen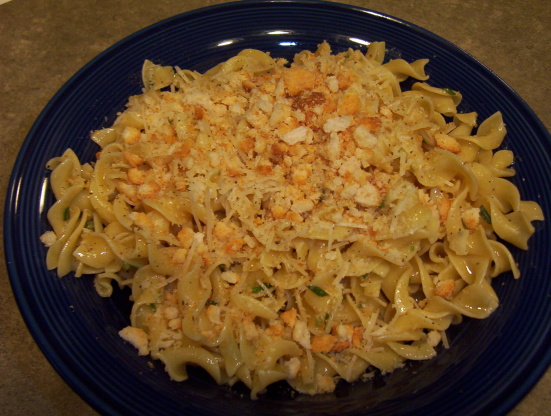 Curly egg noodles are best for this dish, but you can also use pasta. Penne, gemelli, and rotini ae good choices. From Cuisine.

I love this recipe. I have made it twice for now lunch. I did not want to use rosemary, but I did anyhow and it is a wonderful with the cayenne. I used pre-bought italian bread crumbs and they worked well. Thanks for the new flavor.
Toast bread crumbs for the topping in a skillet over medium-high heat, stirring constantly.
Cook until golden brown and crisp, 8-10 minutes.
Remove from heat.
Season crumbs with salt and cayenne to taste; set aside.
Cook noodles as directed on the package.
Drain, but do not rinse.
Melt butter over medium-high heat in the same pan that was used to cook the noodles.
Add the rosemary and cook just until fragrant, about 1 minute.
Do not allow the butter to brown.
Add drained noodles to the pan and toss to coat with the butter, then transfer to a serving dish.
Top with Parmesan, sea salt and black pepper.
Sprinkle bread crumbs over the top and serve.
Makes about 4 cups.