RonaNZ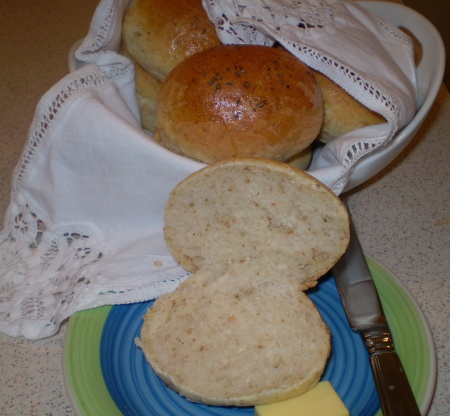 A "partial" bread-machine recipe. Start in your machine, and finish in the oven, or use a mixer fitted with a dough hook, if you prefer.

The was really good. I used my dough cycle and then finished baking the bread in my solar oven. My husband commented on how fluffy it was. I made some toast with it the next morning and it made great toast as well. I have a use rosemary "bush" and so we will be making more of this bread. I especially like the addition of the fresh rosemary sprinkled on the top before baking. Thanks for sharing.
Place ingredients (except the rosemary and egg used for topping) in the bread machine in the order given.
Use manual cycle to knead bread only.
Turn dough out into an oiled loaf pan (be sure to remove hook), then punch down and spread dough to fill pan.
Allow dough to rise in a warm area until doubled in size, approx 1 hour.
Brush dough with beaten egg, sprinkle with chopped rosemary, and allow to rise again for about 10 more minutes.
Bake bread at 375 degrees F for 25-30 minutes, or until nicely browned.
Remove from oven and cool on a wire rack.